SFC Easter Multi-Sport Camps Are Back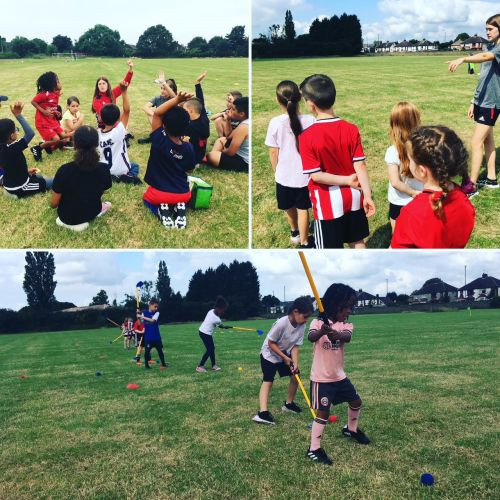 Sheffield F.C. - HAF Camps
This Easter, Sheffield FC will once again be supporting the Healthy Activity And Food (HAF) programme initiative by delivering our Junior Activity Camps which includes:
Sports: Tri-Golf, Dodgeball, Mini-Tennis, Rounders, Archery Arrows, Seated Volleyball, Goalball, Quick Cricket and Change 4 Life Activities….oh yes, there's also a bit of footy. And all this is free of charge for free school meal families!!!
As families that have been involved with Sheffield FC community programmes in the past, you'll have an idea that at our Junior Activity Camps, alongside lots of fun, we always embed:
· Functional Skills (Maths & English)
· Creativity (daily art competition)
· Independence (help set up/break down sessions)
· Life Skills (dinner time behaviours, social engagement)
· Teamwork (leadership & problem solving)
· Communication (listening and speaking)
· Makaton Signing (daily workshop)
· Story time (daily story developing listening skills with a Q&A checking of understanding)
The Sheffield FC Junior Activity Camps are for children aged 5-11 years old. They are part of our education programme for children in the Sheffield City Region to support families for improved healthy lifestyles with healthy food options to replace the loss of school meals during the holiday period.
We have a number of locations this Easter in Sheffield:
Our locations are: (All days are 9:30am until 3pm)
Sheffield Transport Club – 5th, 6th, 7th & 8th April
Goals Sheffield – 11th, 12th, 14th & 15th April (Please note no Wednesday at Goals)
The Akademy (Dronfield) - 22nd, 23rd, 24th & 25th April
As always, there is flexibility to book Individual days or all days but be quick as spaces are limited and have already started to fill up. Don't forget that this is all free of charge for free school meal families!
To register and book spaces for your children (Eligibility applies, FSM) please see link below: (Click S2 & S8 and scroll down for 'Sheffield FC' Activities)
Sheffield City Council Healthy Holidays (schoolipal.co.uk)
For all other bookings, please book here:
Holiday & Activity Camps | SheffieldFC
We look forward to seeing you and your amazing children over the holiday period and please feel free to share this opportunity with any families and children that you believe will benefit and love to be involved in becoming part of the Sheffield FC Community family.