Match Report - Sheffield FC vs Yorkshire Amateur - Tuesday 15th March 2022 (3-2)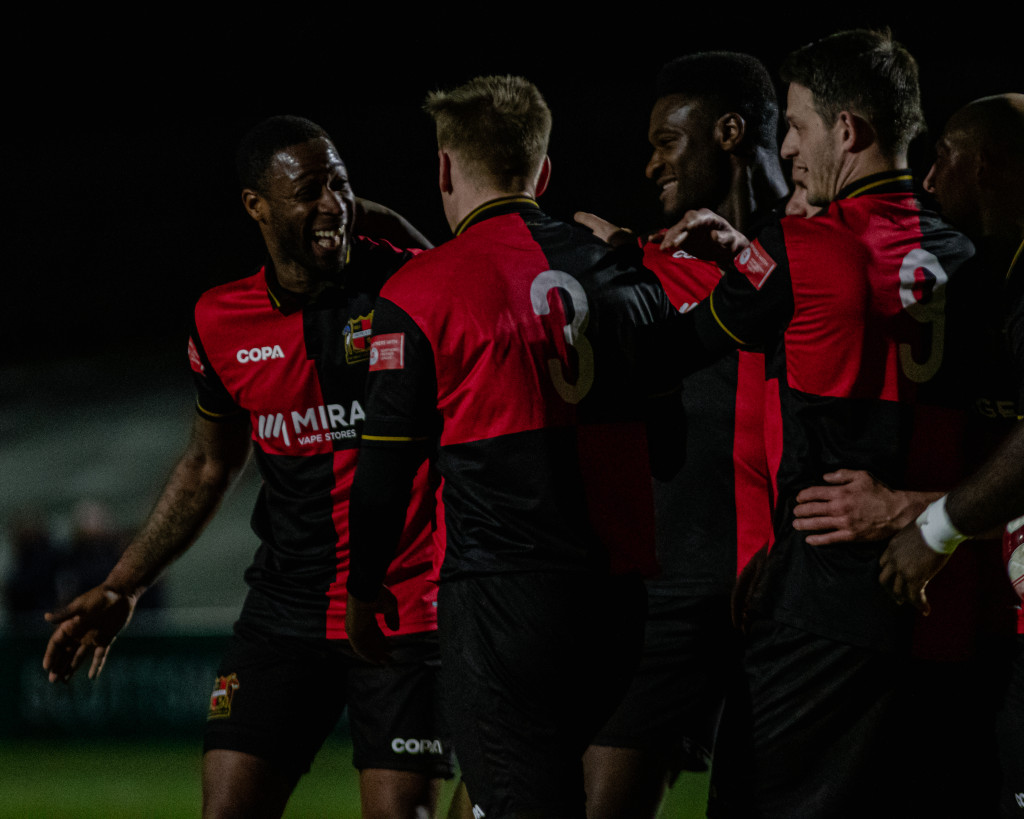 Sheffield FC ran out 3-2 winners against Yorkshire Amateurs in a back and forth contest at The Tuffnells Home of Football Stadium, after taking the lead, then losing it, then gaining it back to take all three points!
Sheffield started on the back foot, after Roy Fogarty cannoned one off the bar from just inside the area inside the first ten minutes, and then continued to pile on the pressure into the halfway point of the first half.
However, Club held firm and bided their time, seeing a scrappy goal turned in on the 36th minute by Nathan Modest, following a deep corner from the right.
We had to wait until the second half for the next real action, but the game picked up massively, with both teams playing some nice football and Manny Kianga causing all sorts of issues down the left wing.
Yorkshire Amateurs struck first in the second half, equalising through Striker Nathan Cartman, with a wonderful half-volley from an over the top ball looping into the net.
Just ten minutes later Sheffield FC almost took the lead back after Kianga found the head of Scott Ruthven after beating his man on the left, and the header rebounded off the post onto the keeper and out, resulting in some gasps from the crowd.
Going into the final ten minutes, Cartman got his second of the game with another ball played over the top and Ryan Musselwhite being caught in no mans land, leaving the goal free for the visitors to play it over his head.
Sheffield looked as though the game was over, but a superb curler from James Baxendale in the 86th minute raised heads again as the begun to believe not all was lost after dominating for much of the game.
Approaching the final whistle however, another twist was in store as debutant and substitute Sam Greenhouse found himself with the goal at his mercy after the visitors keeper missed a punch on the edge of his area, with the newbie free to pass the ball into the empty net with his first touch in the red and black!
All of Sheffields hard work could have been undone with the final kick of the game, but Ryan Musselwhite pulled out a great stop from close range to keep out the visitors and bring home all three points for the oldest club in the world!
Words by Sam Hutchison
Teams:
Sheffield FC:
Ryan Musselwhite, Ben Turner, Rory Coleman, Harry Mitchell, Damian Magee, AJ Adelekan, Nathan Modest, James Baxendale, Marc Newsham (C), Scott Ruthven, Manny Kianga.
Subs: Luke Rawson, Sam Ackroyd, Tiarnan O'Connor, Sam Greenhouse, Jack Birks.
Yorkshire Amateurs:
Max Culverwell, Steven Smith, Leon Henry, Luke Sharry, T'Nique Fishley, Ryan Serrant, Adam Priestley, Marko Basić, Roy Fogarty, Nathan Cartman, Ben Gordon.
Subs: Conner Bell, Junayd Casius-Gill, Mark Bower, Casey Stewart.