MATCH REPORT: SHEFFIELD FC VS STOCKTON TOWN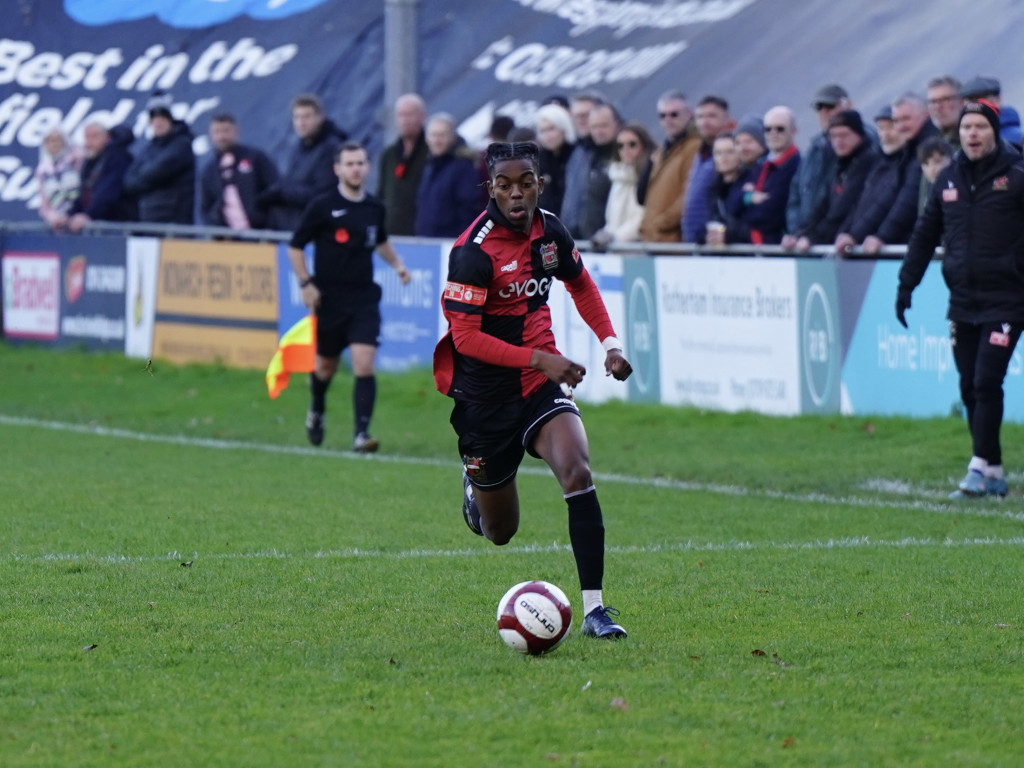 Benni Ndlovu battling on
Sheffield FC suffered their fourth consecutive loss on Saturday, as they lost 2-0 to high-flying Stockton Town, in an end-to-end battle decided by goals at either end of the game.
Stockton opened the scoring in the 10th minute, when home keeper Jordan Pierrepont could only parry a Kevin Hayes cross into the path of Michael Fowler, who had no trouble slotting home to make it 1-0.
The club came back into the game, and five minutes later were denied by a last-ditch block in the area from Adam Nicholson, following a Brad Beatson shot.
Both sides exchanged chances, and despite going close, neither were able to get the breakthrough.
The second half saw yet more end-to-end action, with Callum Roberts producing a strong stop just after the break, denying Luke Mangham from close-range.
Midway through the half Kevin Hayes saw an effort hit the post, and moments later Hayes was denied again, with the head of Alfie Smith coming to Sheffield's rescue.
Stockton started to turn the screw somewhat, with Hayes hitting the woodwork a second time, with Nicholson being denied by substitute Sam Greenhouse. With a minute to go the game was wrapped up, Fowler found himself clear on goal, only to be pulled down by keeper Pierrepont; up stepped Hayes to send the keeper the wrong way to make it 2-0 and put the game beyond doubt.
Sheffield FC: 1 Jordan Pierrepont, 2 Mason Wilson (Sam Greenhouse 73'), 3 Bradley Beatson, 4 Sam Hooper, 5 Reece Fielding ©, 6 Alfie Smith, 7 Ted Cribley (Nathan Modest 60'), 8 Benni Ndlovu, 9 Luke Mangham, 10 Marc Newsham (Harrison Poulter 69'), 11 Stephen Brogan.
Subs: 12 Nathan Modest, 14 Adam Watson, 15 Leojo Davidson, 16 Sam Greenhouse, 17 Harrison Poulter
Stockton Town: 1 Callum Roberts, 2 Lewis King, 3 Johnathan Hasse, 4 Shane Henry (Nathan Mulligan 90'), 5 Adam Nicholson ©, 6 Tom Coulthard, 7 Kevin Hayes, 8 Glen Butterworth, 9 Michael Fowler, 10 Stephen Thompson (Cameron Painter 85'), 11 Michael Roberts (Michael Sweet 90').
Subs: 12 Nathan Mulligan, 14 Dale Mulligan, 15 Cameron Painter, 16 Michael Sweet, 17 Peter Bulmer
Attendance: 459
Referee: Adewunmi Soneye