Match Report - Sheffield FC vs Shildon AFC - Tuesday 5th April 2022 (1-1)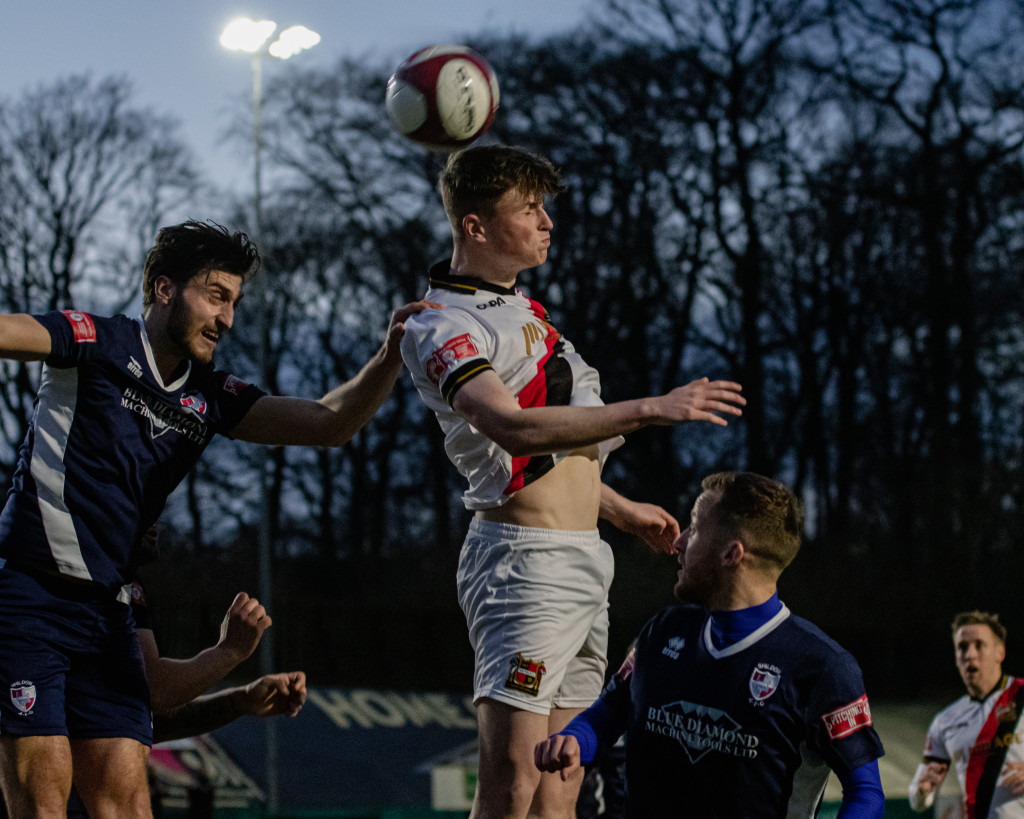 Jamie Robinson getting his head to the ball.
The Worlds Oldest Football Club came into this cold Tuesday night needing all three points if they are to stay up come the end of the season, and opponents Shildon AFC are looking to confirm their spot in the play-offs with a win.
The visitors journey down from the north east looking for a similar result to the game at their place, which ended 5-1 in their favour.
However, it was Club who started on the front foot, with returning right-back Ben Turner hitting a sweet volley back across the net from a cross, but a great save kept the visitors level.
Soon after though, a lofted clearance bounced through to Shildon forward Dean Thexton, but his dink went just wide of the post.
Toward the end of the first half, Sheffield FC found the opener, as Luke Rawson, who had caused issues all half, found himself in behind the Shildon defence, and he found Marc Newsham in the area, who bundled the ball over the line and wheeled off in celebration.
The second half saw little action, but Luke Rawson thought he'd got through on goal, but the linesman saw an issue and the ball was called back for a Shildon free kick, even though many in the stands wouldn't agree.
Shildon found themselves level with 20 minutes to go, when substitute striker Billy Greulich-Smith found himself in space to nod past Ryan Musselwhite from a free kick on the edge of the area.
The last twenty minutes had an end-to-end feeling, but neither side could find a winner and both sides will be happy to leave with a point, as it all but confirms Shildons play-off spot and keeps Sheffield FC heads hoping for a strong end to the season.
Sheffield FC:
Ryan Musselwhite, Ben Turner, Rory Coleman, Leigh Whelan, Jamie Robinson, Josh Burns, Sam Greenhouse, James Baxendale, Marc Newsham (c), Luke Rawson, Manny Kianga.
Subs: Nathan Modest, Jack Birks, Vinny Mukendi, Sam Ackroyd, Scott Ruthven.
Shildon AFC:
Shaun Newbrook, Joe Posthill, Dominic Curl, David Atkinson, Alex White, Jack Vaulks, Ben Trotter (c), Chay Liddle, Dean Thexton, Michael Sweet, Kurt Matthews.
Subs: Will McCamley, Billy Greulich-Smith, Aiden Heywood, Daniel Moore, Benjamin Moore.
Attendance: 279
Words by Sam Hutchison