Match Report - Sheffield FC vs Pickering Town - Saturday 2nd April 2022 (2-3)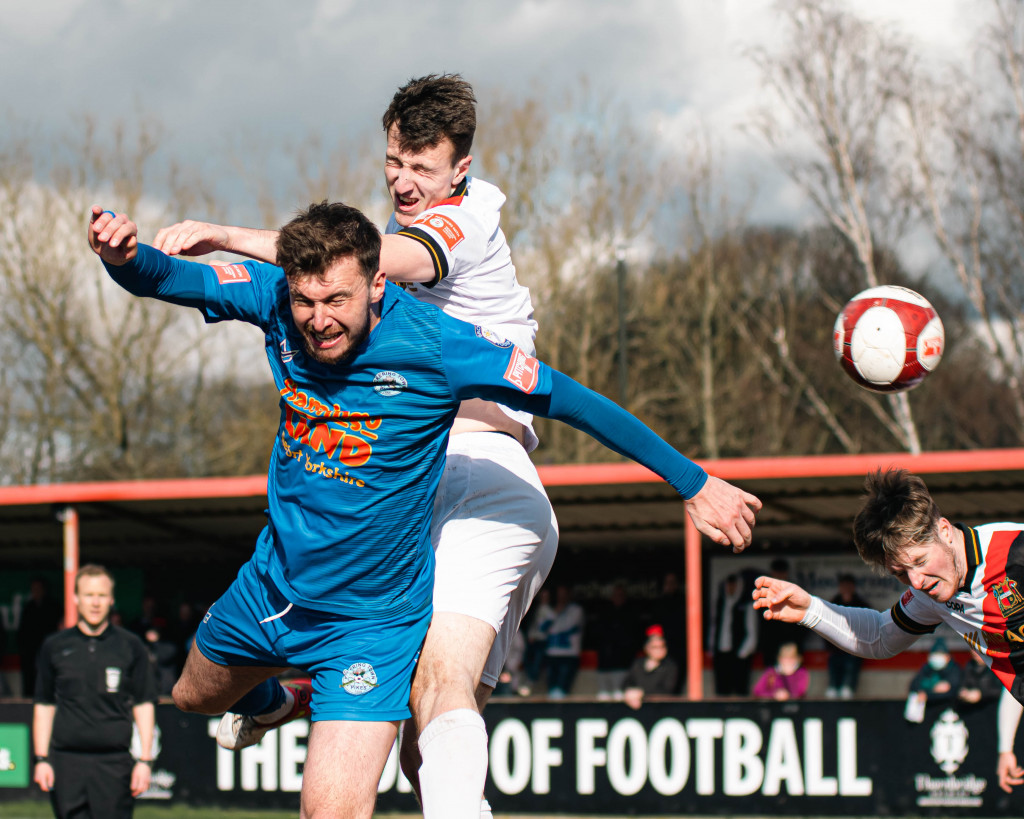 Luke Rawson of Sheffield FC
Sheffield FC faced off against bottom-placed side Pickering Town today in a must win game for the Oldest football club in the world, to preserve their status in this league.
After Club started in the front foot, with some early pressure seeing some chances fly over, a scrappy start was in order. Neither side was afraid to get stuck in but neither side could really create much.
This changed in the 35th minute as Pickering Midfielder Brandon Holdsworth found himself with time to shoot in the centre of the box, and smashed home leaving Sheffield behind.
An instant reply was needed, and it nearly happened as a corner was flung in and Nathan Modest's header was tipped over the bar by Pickering keeper Ben Bottomley.
Going into halftime at 1-0 down, fans expected a big turnaround in Clubs performance, but straight after the restart the away sides star striker smacked one from distance into the top left corner, leaving Sheffield FC with a two-goal deficit to turn over.
It was only 10 minutes after that the aforementioned star striker Moses Abioye scored his second tidy goal of the day, with an outside of the boot lob finding its way into the same corner as earlier.
It took until the last 10 minutes for Club to find their groove, and a late comeback looked on as James Baxendale nutmegged his man and his curled effort found the top right.
Sheffield then rushed back to try and mount another attack, but had to wait until the 89th minute to get another chance, as Rory Coleman switched the ball to Right Wing-Back Sam Greenhouse, who was excellent all game, who drove the ball past the keeper in the away net.
With just one goal separating the sides, Sheffield looked like getting a last-gasp equaliser, but some fantastic defending from the Pickering centre-halves saw them retain their lead, and leave The Home of Football with all three points.
Full time: Sheffield FC 2-3 Pickering Town
Teams:
Sheffield FC
Ryan Musselwhite, Sam Greenhouse, Rory Coleman, Leigh Whelan, Jamie Robinson, Damian Magee, Nathan Modest, James Baxendale, Marc Newsham, Scott Ruthven, Manny Kianga.
Subs: Sam Ackroyd, Jack Birks, AJ Adelekan, Tiarnan O'Connor, Luke Rawson.
Pickering Town:
Ben Bottomley, Tom Nixon, Don Joynes, Jamie Thornton, James Armstrong, Will Taylor, Brandon Holdsworth, Wayne Brooksby (c), Billy Logan, Moses Abioye, Liam Love.
Subs: Rafa Ferreira, Flynn McNaughton, Tom Alengohuro, Matty Dawes.
Attendance: 421