MATCH REPORT: SHEFFIELD FC VS CONSETT AFC - SATURDAY 12TH NOVEMBER 2022 [1-1]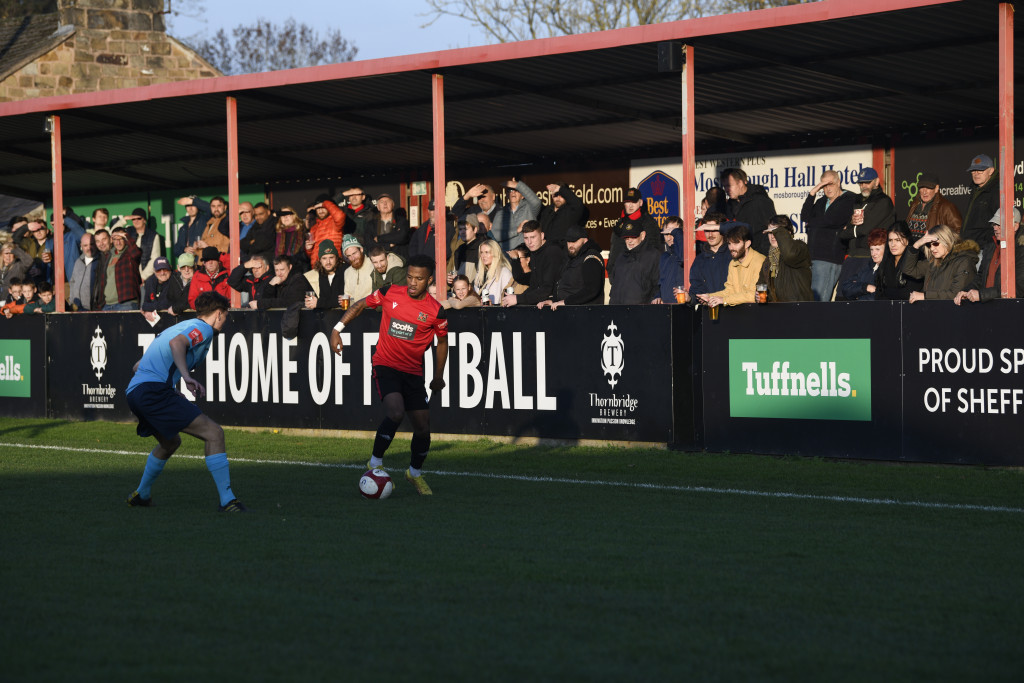 Basile Zottos trying to weave his magic
Reece Fielding's late header rescued a point for Sheffield FC against Consett AFC as the hosts drew 1-1 at the Tuffnells Home of Football.
Sheffield FC had the majority of chances throughout the game but, against the run of play, were 1-0 down at half-time. Ryan Cresswell's side, though, showed their team cohesion to get back into the affair and were unlucky not to take all three points.
Jake Orrell's curling strike from 18-yard gave Consett the lead on the stroke of half-time. However, a late header from Reece Fielding made sure Sheffield FC walked away with a point.
The game started with Sheffield controlling the tie with a flurry of chances. Firstly, Rory Coleman's pinpoint cross found Connor Cutts in the box, but his strike went wide of the goal.
Then, Stephen Brogan's delicate flick down the left-hand side found Nathan Modest who sent a stinging cross but couldn't find anyone. Sheffield carried on the pressure with Cutts excellently dispossessed Kieran Aplin to put Sam Greenhouse in where his stinging cross flashed across the goal.
Coleman recycled the ball to put in another cross finding Modest, however, his shot was blocked by Arjun Purewal. Brogan was the dictator of play in the game, where he flashed past Aplin and sent in a cross which found Modest; however, his shot was blocked by Purewal to prevent a certain goal and then his in-swinging corner was half-punched by Coombe and fell to Modest whose shot forced a great save by Coombe to keep the affair 0-0.
Sheffield would regret missing their chances, as on the 45-minute Consett struck. A Coombe goal kick was flicked on by Lewis Green onto Jake Orrell who drove into the edge of the box and put his shot into the far-right corner past Jordan Pierrepoint to make it 1-0 to the visitors.
The second half started the same as the first half with Sheffield having the majority of chances with Consett trying to hit on the counterattack. The first chance of the half was created by Zottos, his drive from the left-hand side got him a good position but his shot was straight into the arms of Coombe.
Sheffield rallied to equal the contest. Brogan drove into the 18-yard block where he laid off Coleman whose cracking shot forced a save from Coombe. Then, Cutts' low cross found Zottos unmarked on the back post but could only manage to flick his shot wide of the post.
Consett hit on the counter, Adam Mitchell picked up the ball on the 18-yard box where his shot was just shot wide of the post. A great opportunity for the visitors to double their lead. The hosts finally found the breakthrough in the 80th minute. A Brogan corner found Reece Fielding whose glancing header was too strong for Coombe to keep out to make it 1-1.
However, Consett bounced straight back, Joshua Baggs's cute pass sent Orrell through on goal, but he could only manage to drag his shot wide. Sheffield had the chance to steal all three points, Greenhouse's long throw fell to Brogan, but he could manage to slice his shot high and wide of the goal. It was a frustrating evening for the hosts as they felt they should have had all 3 points.
Sheffield FC: 1 Jordan Pierrepont, 2 Sam Greenhouse, 3 Rory Coleman, 4 Ted Cribley, 5 Joshua Burns, 6 Reece Fielding, 7 Stephen Brogan, 8 Connor Cutts, 9 Nathan Modest, 10 Harry Mitchell, 11 Basile Zottos.
Subs: 14 Jamie Yates, 15 Marc Newsham, 16 Adam Baskerville, 17 James Oliver, 18 Benni Ndlovu
Consett AFC: 1 Ross Coombe, 2 Joshua Baggs, 3 Kieren Aplin, 4 Ben Milburn, 5 Arjun Purewal, 6 Daniel Capewell, 7 Calvin Smith, 8 Lewis Green, 9 Zak Atkinson, 10 Jake Orrell, 11 Declan Bisset.
Subs: 12 Charlie Exley, 13 Mark Foden, 14 Cyril Giraud, 15 Adam Mitchell, 17 Scott Fenwick
Attendance: 374
Referee: Ian Johnston
Match Reporter: Adam Davis