Match Report - Sheffield FC vs Brighouse Town - Saturday 9th April 2022 (1-2)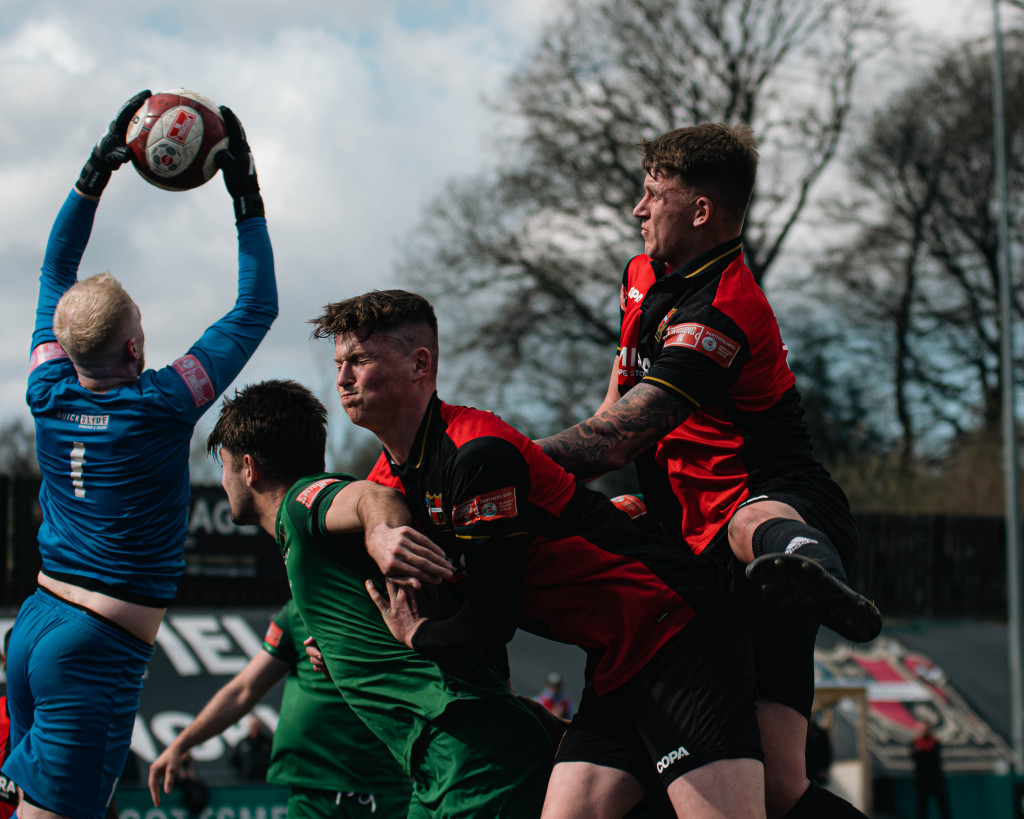 Robinson and Burns challenge for the ball in the air
Sheffield FC need all the points they can get coming toward the end of the season, and a match-up against Brighouse was in order for the Oldest Football Club in the World.
Earlier in the season, Club had taken a point away from Brighouse in the reverse fixture, and they will have been hoping for all three at home.
The game got into its groove quickly, with chances flying for the first 20 minutes. The most dangerous for either side was a shot from Brighouse centre forward Laurence Sorhaindo in just the third minute, but Ryan Musselwhite was comfortable with the save.
Soon after, Sam Greenhouse, in his preferred right-wing position, was put through by a lofted clearance, but he couldn't find the space to get a shot away that troubled the keeper.
The first half continued in the same vein, with chances being created but coming to little for both sides, and the score was level at the break.
Some half time entertainment was in store for the Sheffield faithful, with two competing stag-do's facing off in a penalty shootout!
The second half was much slower, with much of the game being played in the centre circle.
It took until the 59th minute for Club to create a chance, and Modest was brought down in the area, with Marc Newsham slotting comfortably in the bottom corner.
Sheffield started to drop increasingly deeper following the goal, and that caused issues throughout the remainder of the game.
Approaching the 65th minute, ex-Sheffield man Mohammed Tijani burst forward, and Sheffield failing to clear let Javelle Clarke lay the ball off for the Right-back to drive home, aided by a deflection off Jamie Robinson.
Then, approaching the end of the game, both teams pushed for a winner on the breakaway, and the visitors won the ball on halfway and played through Javelle Clarke, who tapped a cross in for Sorhaindo to nod home, making it 2-1 to the visitors.
Sheffield FC pushed hard for the equaliser, even having all 11 men in the opposition area at one point, but nothing came to fruition and Brighouse leave with all three points.
Full time: Sheffield FC 1-2 Brighouse AFC
Teams:
Sheffield FC:
Ryan Musselwhite, Ben Turner, Rory Coleman, Leigh Whelan, Jamie Robinson, Josh Burns, Sam Greenhouse, James Baxendale, Marc Newsham (c), Nathan Modest, Manny Kianga.
Subs: Damian Magee, Luke Rawson, Scott Ruthven, Jack Birks, Vinny Mukendi.
Brighouse AFC:
Brett Souter, Mohammed Tijani, Joshua Grant, Corey Gregory, Harry Wilkinson, Harrison Beeden, Darius Smith, Thomas Haigh (c), Laurence Sorhaindo, Jack Boyle, Javelle Clarke.
Subs: Redmond Lee, Shiraz Khan, Zander Edwards, Zeph Thomas, Elliot Harrison
Attendance: 539