Match Report: SFC Women vs Sporting Khalsa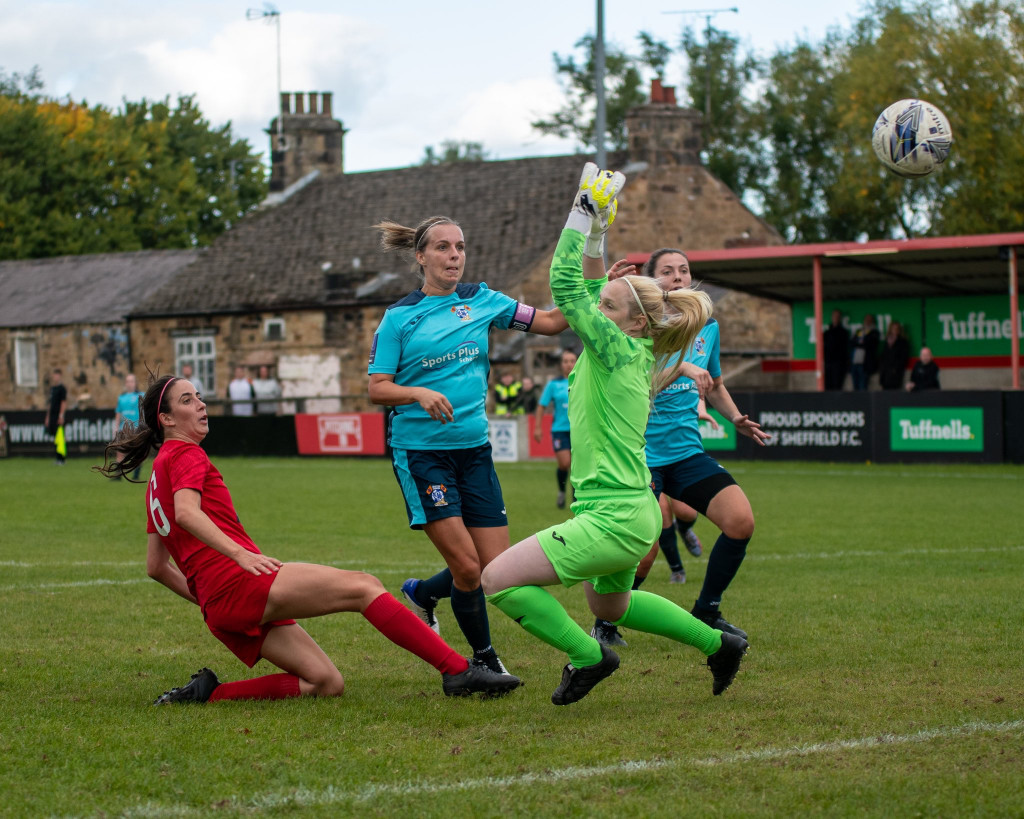 Matilda Hallas-Potts pulling a goal back.
Matilda Hallas-Potts' late strike wasn't enough to spark a comeback at the Tuffnells Home of Football Stadium as Club suffered 1-2 defeat to Sporting Khalsa in the FAWNL Division One Midlands.
John Bennett's team were looking to add another three points after victory away at Northampton last time out in the league, but Club were undone by goals from Olivia Woolston and Stacey Garnham within the first hour of play.
During the first period, the opponents forced the World's First into a gritty defensive battle, with Brooke Smith and Alex O'Neill being called into action frequently. Smith denied Woolston twice with two powerful challenges within Club's penalty box during the first knockings of the game.
Khalsa proved tricky customers, too, with Angel Craig-Topper providing a particularly delicious battle with O'Neill down Club's left flank from the first whistle.
O'Neill bravely matched the tricky winger and put in a valiant defensive display which came in for praise by the manager.
After the game, Bennett said: "If (all) eleven players were at the level she was at, then we win games of football.
"Off the ball, she eliminated the threats. Angel [Craig-Topper] on the right-wing, who we knew about; Alex dealt with brilliantly."
Club's best chances came in the second half, with Moriah Mcintosh threatening just after the restart, as she curled the ball from outside the box, but the shot was parried behind the goal.
Club's soon-to-be goal scorer, Hallas-Potts, was the most lively attacking threat whilst fighting the two-goal deficit. The midfielder connected with a corner and headed just over the frame of the goal just minutes after Khalsa's second.
Molly Waite and Alex O'Neill combined twenty minutes from time; Waite dribbled impressively past two players and lay the ball off to Hallas-Potts. But the midfielder was again denied as her shot was directed just wide by goalkeeper Natalie Hall.
In the eighty-seventh minute, the World's First clawed one back: Hallas-Potts latched onto the end of a venomous whipped cross by Player of the Match O'Neill and guided the ball past Khalsa's keeper, but the opponents held out for the win.
Player of the Match: Alex O'Neill
Words by Alfie Dickin