Match Report: SFC Women vs Barnsley Ladies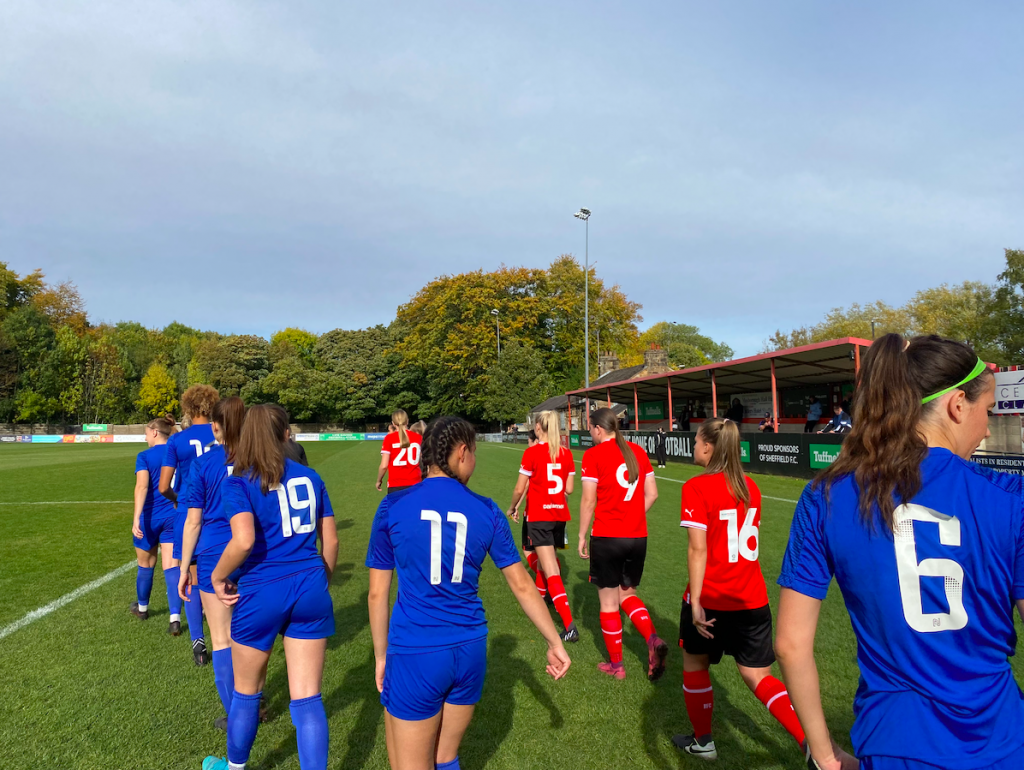 Sheffield FC Women walking out. Shot by Kathrin Dick
Philippa Cassidy's lobbed goal spelled victory in the County Cup for Sheffield, as they beat Barnsley Ladies 1-0 at the Tuffnell's Home of Football Stadium.
Club asserted their dominance in a lively first half, with Cassidy securing victory after 24 minutes after seeing the keeper off her line and taking the opportunity to chip the ball over her head from the edge of the box.
The World's First could well have run away with the game in the first period, with a slew of chances being denied by a valiant Barnsley defence.
After the half-hour, Moriah Mcintosh was played in behind the defensive line by Alex O'Neill, playing a more central role than usual in midfield. Mcintosh's swerving shot was parried behind for a corner.
Then, only moments later, it looked certain the World's First would turn the screw on their opponents, but a valiant Matilda Hallas-Potts was twice denied by goalkeeper Megan Clement from close range, before Mcintosh's follow-up was cleared off the line by a Barnsley defender.
O'Neill, relishing her central role found herself with dancing shoes on in the box five minutes before half-time, as she skipped through the compact defence, weaving and moving the ball at pace - but again the goalkeeper came up trumps for the Tykes.
The second half became an exercise in seeing the game out, as Barnsley became more dogged in their defence and got a shot off on the break by Ellie Newsam, but the ball was scooped up by an alert Leah Kellogg.
Manager John Bennett saw this game as a chance to reboot after a disappointing run of games in the league and was happy to see the team progressing.
"We won the tie and I think that is the most important thing," Bennett said after the match.
"But we are absolutely under no illusion that we haven't still got a lot of things we can do even better still.
"We have said, look, it isn't going to be an overnight thing (turning the team's fortunes around) when we have had the run that we have had."
Bennett's side will be looking to carry on the upward trajectory as they head to Lincoln next Sunday for another tournament fixture - this time in the FA Cup.