Match Report - Ossett United vs Sheffield FC - Tuesday 8th February 2022 (3-2)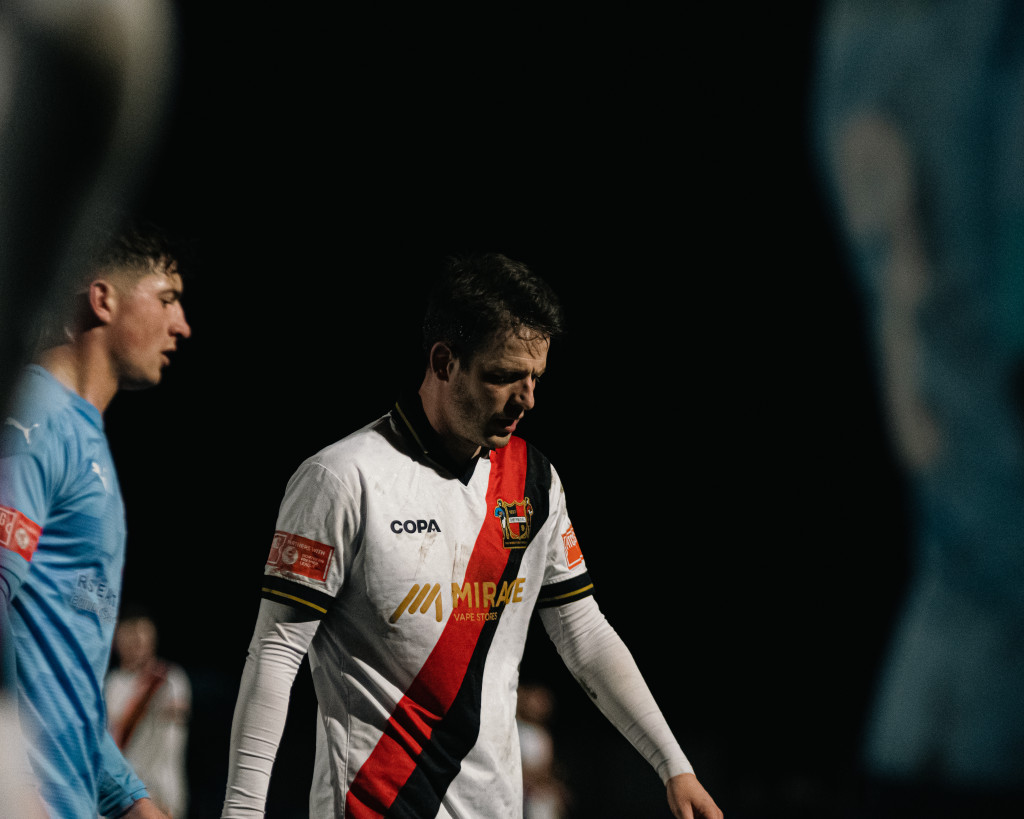 Sheffield's past came back to haunt them at Ingfield on Tuesday, as Ossett United came from behind twice in a frantic game, to run out 3-2 winners in a late late show. Ossett, managed by ex-Sheffield FC manager James Colliver, saw ex-Clubbies Ify Ofoegbu and Jordan Turner score the vital second and third goal to snatch all three points.
With conditions dictated by a biting wind blowing down the slope, Club started the first half playing uphill and against the gale, however it was the visitors that started the brightest with Manni Kianga seeing his shot spectacularly cleared from the line by a diving Harry Gagen header, after a good break from Luke Rawson and Nathan Modest. Moments later Modest went close with a diving header, after Kianga put in a sublime cross, the ball going inches off target.
The breakthrough came on 30 minutes, Rawson's cross was hooked on by Marc Newsham, with Modest picking his spot from the edge of the area to make it 1-0 to Sheffield.
Despite having the advantage of the conditions Ossett never really tested a solid looking Club defence, however three minutes after the break all of that was to change, as James Walshaw's nod-down was swept home by Aaron Haswell to make it 1-1.
Parity lasted just three more minutes, as Sheffield went straight up the other end and caused chaos in the box, with Luke Rawson stabbing the ball home amongst the mêlée making it 2-1.
The yo-yo nature of the game continued with United piling on the pressure from the off, and in the 56th minute they were rewarded as Ross Hardaker's cross was nodded on by Haswell, with Jordan Turner providing the finish to level matters once again.
The game settled into a frantic end to end contest, with the introduction of Vinny Mukendi for the visitors causing issues at the bottom of the hill, and Ify Ofoegbu doing the same at the top end. As time was dying out, Ossett started to assert themselves in search of a late winner, with Walshaw, Haswell and Ofoegbu all going close.
At the end Referee Luke Watson signalled four minutes of added time, and despite no stoppages in that period of time the game ground on for three more minutes, giving ex-Clubbie Ofoegbu the late late chance to steer the ball home through a mass of bodies to send the home fans and officials into raptures.
Ossett United: Edd Hall, Harry Gagen, Ross Hardaker, Luke Hogg, Declan McGivern, Brad Beatson, George Green, Nathan Valentine, James Walshaw ©, Aaron Haswell, Jordan Turner. Subs: Michael Williams, Tom Deighton, Ify Ofoegbu, Charlie Wood, Jake Teale.
Sheffield FC: Ryan Musselwhite, Ben Turner, Rory Coleman, Jack Birks, Leigh Whelan, Damian Magee, Nathan Modest, James Baxendale, Marc Newsham ©, Luke Rawson, Manasse Kianga. Subs: Jamie Robinson, Sam Ackroyd, Scott Ruthven, Jamie Yates, Vinny Mukendi
Attendance: 395

Referee: Luke Watson