Match Report: Egri Erbstein Tournament - 23rd/24th July 2022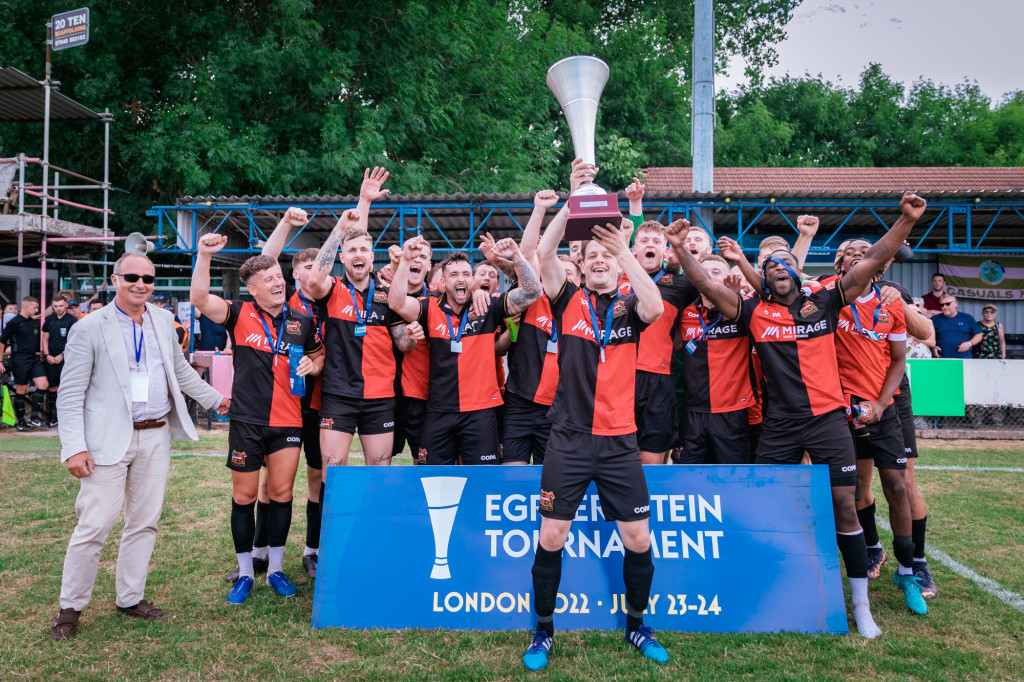 Captain Marc Newsham lifts the Egri Erbstein trophy.
Sheffield FC headed north on the M1 with an extra passenger on Sunday evening, as they returned victorious in the Egri Erbstein Tournament, and lifting the coveted Corinthian Cup.
Played over two sweltering days at the St George's Field stadium in Tolworth, Club overcame both international and domestic opposition, to lift the trophy presented by Erbstein's grandson and TV commentator Martin Tyler.
The first game saw Sheffield play Hungarian side Budapesti Atlétikai Klub, Úr Erbstein's first club, and the World's First did not hold back. In a first half that saw the Magyars torn apart by the no-nonsense approach of the northerners, Club ran in five unanswered goals, with Adam Watson (8'), Connor Cutts (22'), Stephen Brogan (33'), and Josh Nodder (31', 42') all beating BAK's keeper Dániel László.
In the second half BAK recovered to show what they are really about, having recovered from the first night nerves, they produced some excellent skilful football. Unfortunately for them they conceded an unlucky own goal from Attilla Magyar, and in the dying seconds an excellent goal from Benni Ndlovu, making the final score 7-0 to Sheffield.
Sunday started with BAK recovering from the previous day's events, drawing with London-Based Somalian side Hilltop FC 1-1 in the third-place play-off, only to lose 4-3 on penalties.
The main event was a real battle, cheered on by a raucous Brazilian following, hosts Corinthian-Casuals from a step above Sheffield provided a stern opposition.
It was all square in a feisty encounter, with some pretty tasty tackles from both sides, showing how seriously both camps were taking this competition. Both sides had efforts go close, but the game remained goalless until the 88th minute, when Connor Cutts nodded home a Stephen Brogan cross to send the visitors into delirium both in the stands and on the pitch, sealing a 1-0 win for Sheffield.
Over 100 years had passed since the two clubs had previously met, but the weekend has sealed a massive friendship between Casuals and Club, along with new friendships with BAK and Hilltop. What this means is the next Egri Erbstein Tournament will be held at the Home of Football, with Sheffield eager to defend the title, and hopefully host a spectacle as good as this year's.
Sheffield FC Squad: 1 Jordan Pierrepont, 2 Joshua Burns, 3 Rory Coleman, 4 Adam Watson, 5 Joe Maguire, 6 Reece Fielding, 7 Nathan Modest, 8 Harry Mitchell, 9 Joshua Nodder, 10 Steven McDonnell, 11 Marc Newsham, 12 Jack Birks, 14 Ben Turner, 15 Maasai Dearlove, 16 Stephen Brogan, 17 Damian Magee, 18 Connor Cutts, 19 Benefit Ndlovu, 20 Sam Greenhouse, 21 Jamie Yates, 22 Leigh Whelan.
Tournament Results
Semi Finals – Attendance 406
Corinthian Casuals 2 Hilltop FC 0
Budapesti Atlétikai Klub 0 Sheffield FC 7
Finals Day – Attendance 420
Hilltop FC 1 Budapesti Atlétikai Klub 1 (Hilltop won 4-3 on pens)
Corinthian Casuals 0 Sheffield FC 1
Official Player of the Tournament – Stephen Brogan (Sheffield FC)