Match Report: Eccleshill United vs Sheffield FC - FA Cup Extra Preliminary Round - Saturday 6th August 2022 [0-4]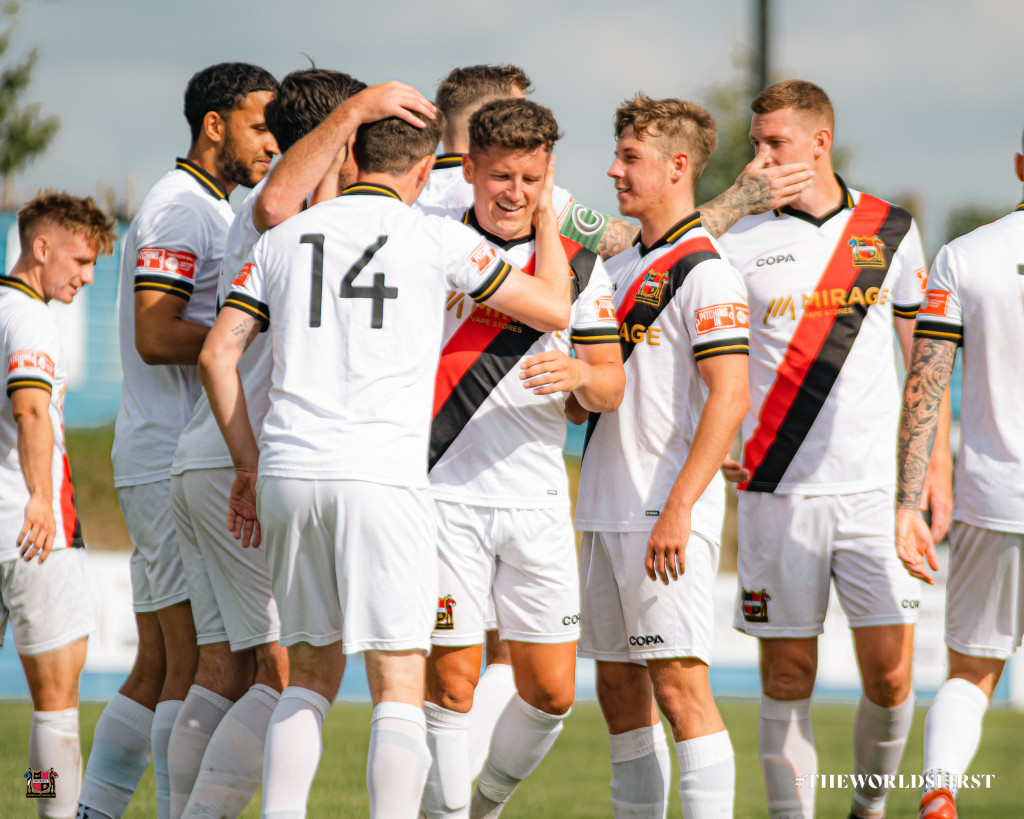 Celebrations as Newsham converts from the spot for the 4th.
Sheffield FC started their season on a positive note by easing through a tricky FA Cup tie at Eccleshill United, beating the Bradford side 4-0, to progress to the next round where they will face Glossop North End.
It took the World's First just three minutes to open the score line, as Stephen Brogan lofted an excellent ball into the danger zone, with Steve McDonnell getting there first to stop the ball over the head of keeper Isaac Khan. On 10 minutes club doubled their lead, this time Joshua Nodder put the ball into the box, with Nathan Modest scrambling the ball home from close range, making it 2-0 and giving Eccleshill a massive uphill struggle.
Club made certain of the victory, wrapping it up just before the break, Brogan once again the provider with yet another great delivery into the middle from a corner, with skipper Adam Watson rising highest in the mêlée to head home.
The second half started much tamer, with Sheffield taking their foot off the gas and allowing Eccleshill to get a foothold in the game, however the hosts barely troubled the visitors' goal. It was the away side who went closest and should have made it four, as Harry Mitchell burst through the middle and beat the defence and goalkeeper, only to see his effort smacked against the underside of the bar and bounced out to safety.
Eccleshill were reduced to 10 men following a pointless late tackle by Ben Bodle on Sam Greenhouse, giving the left back a second yellow card, and making the task nigh on impossible for the home team. Three minutes after Club made it 4-0, as Brogan burst through the middle of a tiring defence only to be brought down in the area by Matthias Britton; up stepped Marc Newsham who emphatically placed the spot kick well out of Khan's reach.
The home team ended the game with nine men, as Devonte Morton received his second yellow card for yet another silly challenge, pushing Sheffield keeper Jordan Pierrepont over after he had collected the ball.
Overall, this was a hurdle that was cleared with much more ease than had been anticipated, and now Club go into the next round where they will face Northern Premier League West Division Glossop, going into the tie with a great deal of confidence.
Eccleshill United: 1 Isaac Khan, 2 Kelvin Bleau, 3 Ben Bodle, 4 Andy Cooper, 5 Jack Durrin, 6 Benjamin Gordon, 7 Joe Silva (Matthew Sykes 46'), 8 Emmerson Cox (Luke Sharry 46'), 9 Devonte Morton, 10 Fernando Moke, 11 Matthias Britton
Subs: 12 Matthew Sykes, 14 Philip Nkomo, 15 Alex Cusack, 16 Gaudric Totap, 17 Benni Wilkinson, 18 Luke Sharry (Ryan Toulson 67'), 19 Ryan Toulson
Sheffield FC: 1 Jordan Pierrepont, 2 Sam Greenhouse, 3 Stephen Brogan, 4 Adam Watson, 5 Joe Maguire, 6 Reece Fielding, 7 Morgan James, 8 Harry Mitchell (Jamie Yates 79'), 9 Nathan Modest (Marc Newsham 75'), 10 Steven McDonnell, 11 Joshua Nodder (Maasai Dearlove 71')
Subs: 12 Jamie Yates, 14 Marc Newsham, 15 Joshua Burns, 16 Benny Ndlovu, 17 Maasai Dearlove
Attendance: 81
Referee: Dylan Hague