Match Report: Club vs Tadcaster Albion: 19/12/2021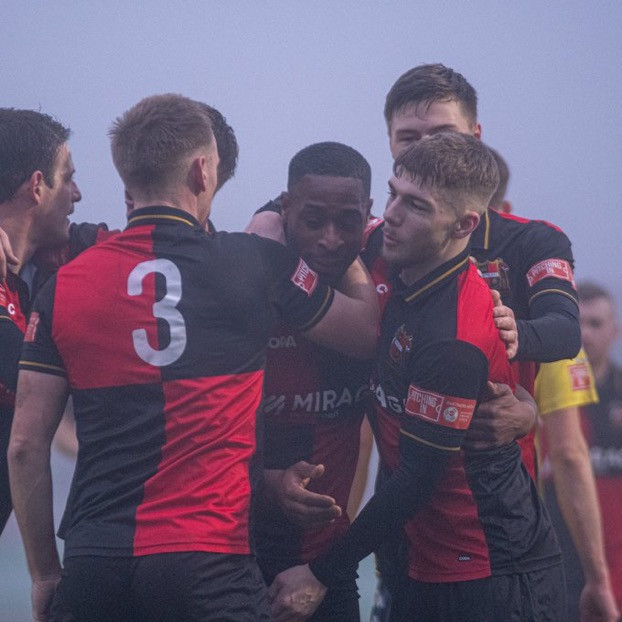 Match Report – Sheffield FC Vs Tadcaster Albion
A second half comeback saw fellow strugglers Tadcaster take all three points from a cold and foggy Home of Football. Sheffield failed to put a stop to repeated Tadcaster long balls seeing the side rooted to the bottom of the table.
Sheffield started well, with an early pass back from Tadcaster leading to a good chance for an early advantage, but a goalmouth scramble was cleared, and Albion survived.
However, it was only a matter of time until the worlds oldest club capitalised on their early dominance, with the returning Luke Hall whipping a fantastic cross onto the head of Captain Marc Newsham.
Alongside Luke Hall, Number 10 James Baxendale also made his first appearance for Club, and both showed glimpses of talent throughout, with Nathan Modest making his home return, only to see it cut short just after half time with an injury.
Just 10 minutes after the first Sheffield goal, the lead was doubled by Modest after cutting in from the left wing anddriving low beyond Tadcaster keeper Ben Bottomley.
Following Sheffield's second, Tadcaster grew into the game, and began creating some chances, but Ashton Hall made a last-ditch one-on-one tackle to keep them out just before half time, and then Luke Hall dashed up the other side and nearly made it three under the floodlights for Sheffield.
Following Nathan Modest's early substitution, number 12 Jordan Walshaw offered some pace and direction on the left wing, and soon saw his chance but a great save saw the ball cannon back off the bar and out.
It didn't take long however for Tadcaster to get back into the game, with a goalmouth scramble seeing Eddie Church net his first of the game in the 62nd minute, but an immediate reply was nearly on the cards as Luke Hall smashed one goalward, but the effort whizzed over the bar.
Instead, the visitors went down the other end and nicked an equalizer, with substitute Junayd Cassius-Gill smashing home from close range, and really making Sheffield wish they had converted some of the chances they created throughout.
Sheffield nearly find there way back into the lead, but no one was there to tap home from the 6 yard box after a succession of corners, and Tadcaster cleared again.
It wasn't long until another long ball penetrated the young Sheffield defence, and Tadcaster found a winner in the 88thminute, breaking Sheffield hearts after they deserved much better based on their performance, but the bounces fell Tadcaster's way and the away side can hold their heads high on the way home.
Sheffield FC: Jonathan Hedge, Jack Birks, Rory Coleman, Jamie Yates, Josh Burns, Ashton Hall, Luke Hall, Harry Mitchell, Marc Newsham ©, James Baxendale, Nathan Modest. Substitutes: Jordan Walshaw, Damian Magee, Sam Ackroyd, Leigh Whelan, Niall Edge.
Tadcaster Albion: Ben Bottomley, Dan Hartley, Ellis Farrar, Ollie Metcalf, Kesi Omoluku ©, Kieran Burton, Jack Carr, Jack Crook, Eddie Church, Jordan Deacey, Des Amponsah. Substitutes: Simon Russell, Junayd Cassius-Gill, Rinor Ejupi, Angus Richardson, Ally Hughes.