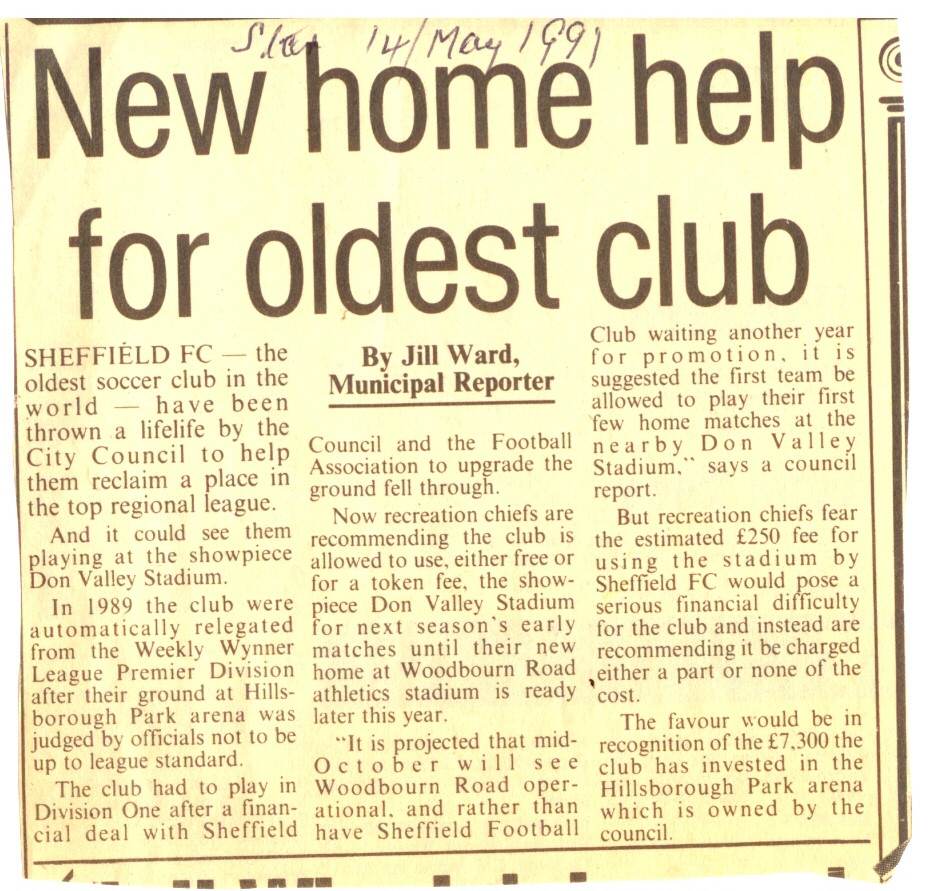 A newspaper clipping from 1991
After a pretty tough run of form, 7 games without a win since Boxing Day, we started March by keeping making it 5 games unbeaten, progressing to a cup semi-final and pulling ourselves away from the lower reaches of the table. During that run we haven't conceded a single goal and it got us scrambling for the history books to see what the club record for clean sheets was.
Our 1990/91 side hold the record for our best ever league campaign – losing just 2 games and picking up 64 points from a possible 72 as they won the NCEL Division 1 title, finishing 9 points ahead of our old rivals Hallam. They also set the record for consecutive clean sheets as 6 opponents failed to find a way past our goalkeeper David Barker.
Previously the Club best had been a run of 5 matches without conceding. This had been set back in 1954, when it appears the opposition had been more concerned with matters at their defensive end as Sheffield netted 21 times without reply, striker Wilf Roper scoring in each game.
So, to the best of our knowledge this is only the third time a Sheffield side has gone 5, or more, competitive games without conceding a goal, making it a pretty impressive achievement already. I am writing this ahead of our trip to play Brighouse tonight so could the current team equal the record and be looking to break it by the time we welcome runaway league leaders Worksop Town on the weekend?
As always with the history of the world's oldest football club there is a twist to the story. I noted above that these records are for competitive games but way back, in the mists of time, before league or cup football existed, there is an even better sequence. Club lost a game against local side Norton FC in mid-December 1863 and it would be well over a year before another side could get the ball past the Sheffield keeper! The run included the world's first 'out of town' game, when Sheffield travelled to Nottinghamshire in 1865 and was only ended by a 2-0 defeat in Lincoln, in April 1865. If you were a fan of seeing goals then perhaps the 1860s wouldn't have been the period for you to watch the game though: the run amounted to 12 games with 8 of them ending as 0-0 draws and the other matches finishing as 1-0 victories for Sheffield!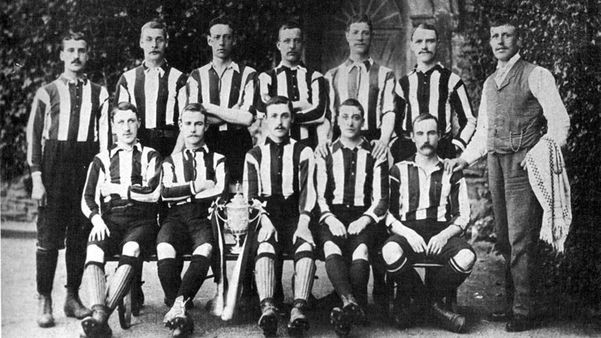 As for our history in the month of March, it starts badly with the club losing for the first time ever in March 1861 when they lost 3-0 against Hallam! In fairness Sheffield were playing with 15 men with combination team being allowed 18 players. One interesting game from 1885 saw the first XI play against "Twelve Veterans" at Bramall Lane. The 'oldies' included several men who are undoubted legends of the game, such as John Shaw, who founded Hallam FC and played a critical role in the development of the laws of football as Sheffield FA President, and Charles Clegg, who played for England in the world's first international game, served as Chairman and President of the Football Association and is regarded as the first man knighted for services to football.
Finally, this month sees us play against Maltby in the Semi Final of the Sheffield Hallamshire FA Cup and March has been an important month during previous successes for us in the competition, if you're looking for a lucky omen! In 1994 a successful result at Frickley set up a final meeting with Worksop that Club would win on penalties to lift the trophy for the first time. The last time we won was in 2010 and in the March of that year Sheffield progressed in the competition by coming from behind to beat Stocksbridge in a cup classic. Striker Ashley Longstaff came from the bench to net twice and steal the limelight from Stocksbridge's hat-trick man Jamie Vardy – I wonder whatever happened to him?!