FA CUP MATCH REPORT: WORKOP TOWN 4 - 1 SHEFFIELD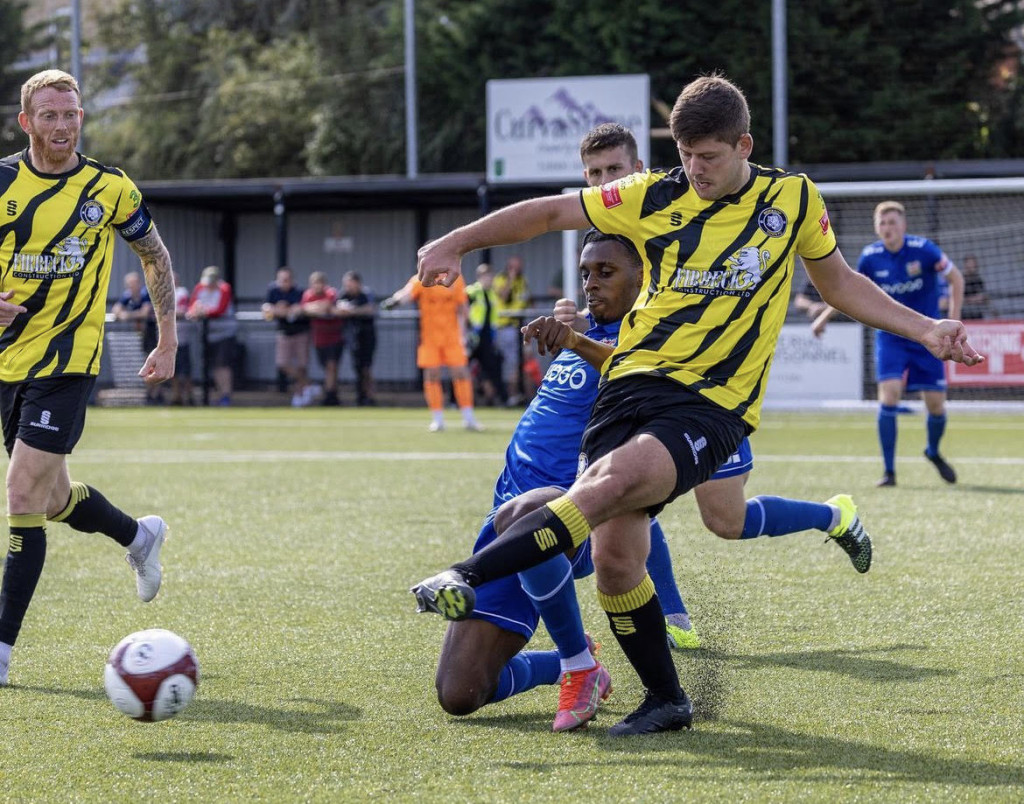 Curt Morrison battling for the ball
Sheffield FC exited the FA Cup for another season on Saturday, after being overpowered at Sandy Lane, losing 4-1 to Premier Division Worksop Town.
The hosts always looked that touch sharper than the away side, and they took the lead on 13 minutes, as Jay Rollins tapped the ball home after being teed up by Josh Wilde.
Worksop made it two three minutes later, Vaughan Redfern outpacing the Sheffield defence, before lobbing the ball over Edd Hall from 20 yards out.
Club could have pulled one back before half time, Connor Cutts found himself open in the area, however his shot was spectacularly tipped onto the bar by Paul Cooper.
It took until the 75th minute for Worksop to grab their third, Jay Rollins enjoying space on the right wing, putting the ball on a sixpence for Terry Hawkridge to side-foot home from the edge of the area.
Sheffield grabbed a consolation four minutes from time, Luke Aldrich picking the ball up on the right, before curling the ball into the far corner beyond Cooper.
In the third minute of injury time Worksop grabbed the fourth goal, Redfern tapping in from close range, to give score that little extra gloss.
Worksop Town: 1 Paul Cooper, 2 Deegan Atherton, 3 Josh Wilde, 4 Aleksandrs Starcenko, 5 George Taft, 6 Jack Broadhead, 7 Terry Hawkridge, 8 Paul Green, 9 Vaughan Redford, 10 Liam Hughes, 11 Jay Rollins.
Substitutes: 12 Ben Tomlinson, 17 Samuel Wedgbury, 16 James Hanson, 18 Hamza Bencherif.
Sheffield FC: 1 Edd Hall, 2 Jamie Yates, 3 Rory Coleman, 4 Adam Watson, 5 Joshua Burns, 6 Alfie Smith, 7 Alfie Raw, 8 Connor Cutts, 9 Luke Mangham, 10 Benni Ndlovu, 11 Curtis Morrison.
Substitutes: 12 Marc Newsham, 13 Jordan Pierrepont, 14 Luke Aldrich, 15 Sam Greenhouse, 16 Callum Brooks.
Attendance: 428
Referee: Sam Wright