Enviraclad Extend 1857 Partnership For The 21-22 Season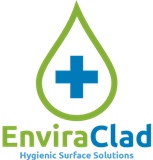 Enviraclad
We are pleased to announce Enviraclad have renewed their brand partnership with The Worlds First for the 21-22 season.
Originally partnering with Sheffield F.C. for the 20-21 season as a Legend's Brand Partner sponsoring James Smith (First Team Assistant Coach), they have now become an 1857 Brand Partner with the club.
On top of the above they have also donated and installed first class hygienic wall cladding for the both home and away changing rooms at The Home Of Football Stadium.
We are pleased to sponsor James we have had a long standing working relationship with for over five years.
One of the fast-growing companies in the UK for hygienic surface installations. With a "clients for life" attitude towards projects we're focused on serving you for the long term, not just your next project.
That's why clients such as Frankie & Bennies, Tesco, the NHS and many Schools & Colleges choose to work with us time and time again. Our competitive pricing and platinum service levels ensure we're not just the first choice but the only choice for our clients.