EA Sports celebrates Sheffield FC as the world's "First Of All Time" in FIFA 22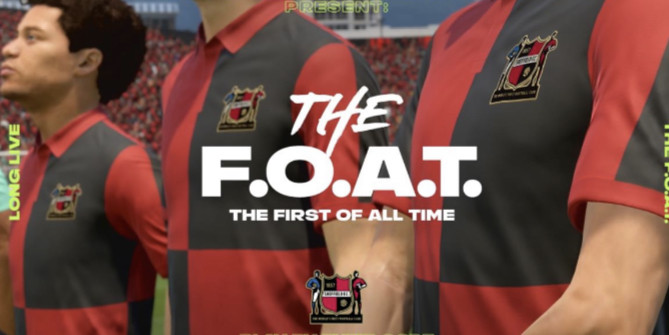 »No GOAT without the FOAT«
EA Sports celebrates Sheffield FC as the world's "First Of All Time" in FIFA 22
with a new kit and rulebook for the community
On October 24th EA SPORTSTM celebrates the birthday of Sheffield FC – officially recognized as the world's first and oldest football club – and therewith introduces the F.O.A.T. to FIFA 22. As part of the launch campaign by creative agency Jung von Matt SPORTS, the FIFA community can unlock the original 1857 kit from the "First Of All Time" in FIFA Ultimate Team (FUT). With the »FOAT Code«, EA and Sheffield FC present new and unwritten FIFA Rules and call on the community to pledge to the FOAT Code by wearing the kit in the game. As Sheffield FC has written the first rules of club football back in 1857, the FOAT Code for FIFA22 builds up on the roots of football and its original tone.
The whole world constantly argues about who is the greatest football player of all time. But there would be no GOAT without the first of all time – the FOAT. And as the football community might never agree on who is the GOAT, it is quite easy to identify who was the first: Sheffield FC, established in 1857. On October 24th, the anniversary of Sheffield FC, EA SPORTSTM celebrates the founding fathers of the world's most famous sport by introducing the prestigious club in FIFA 22. To honor their contribution to football, EA SPORTSTM for the first time has exclusively included the Sheffield FC original
,
kit from 1857 within FIFA Ultimate Team (FUT). That allows the FIFA22 community to unlock the kit in FUT and play in the colors of the FOAT. All the community has to do is to play four matches in any FUT Game Mode having five players from England in their starting squad, assist three goals using a player from England in any FUT Game Mode and win a match by at least two goals in any FUT Game Mode.
Moreover, as part of the reveal campaign by creative agency Jung von Matt SPORTS, EA SPORTSTM and Sheffield FC not only launch the iconic heritage jersey but also a new rulebook for FIFA 22 presented by the FOAT itself. The »FOAT Code« by the pioneers and initial rule-makers of Sheffield FC calls on the FIFA community to follow the unwritten FIFA rules and pledge to it by wearing the kit in the game.
The campaign hero-film as well as the FOAT Code activation are published throughout the social media eco-system of EA SPORTSTM and Sheffield FC.
FIFA 22 is developed by EA Vancouver and EA Romania and is available worldwide on PlayStation 5, Xbox Series X|S, PC via the EA App, Origin, and Steam, Stadia, PlayStation 4 and Xbox One. The FIFA 22 Legacy Edition is available on Nintendo SwitchTM. Join the EA SPORTS FIFA community at Facebook and on Instagram, or follow us on Twitter @easportsfifa.
EA SPORTS FIFA 22 assets are available to download on the official EA press site at PRESS.EA.COM. Please find image and video material under the following link:
https://cloudnine.jvm.de/s/wesm7qS56dKANxP
Your press contact at Jung von Matt SPORTS:
Jan-Luca Lossau | +49 172 65 83 714 | jan-luca.lossau@jvm.de