Chesterfield F.C.s Spireites Trust team up with world's oldest football club to deliver weight management programme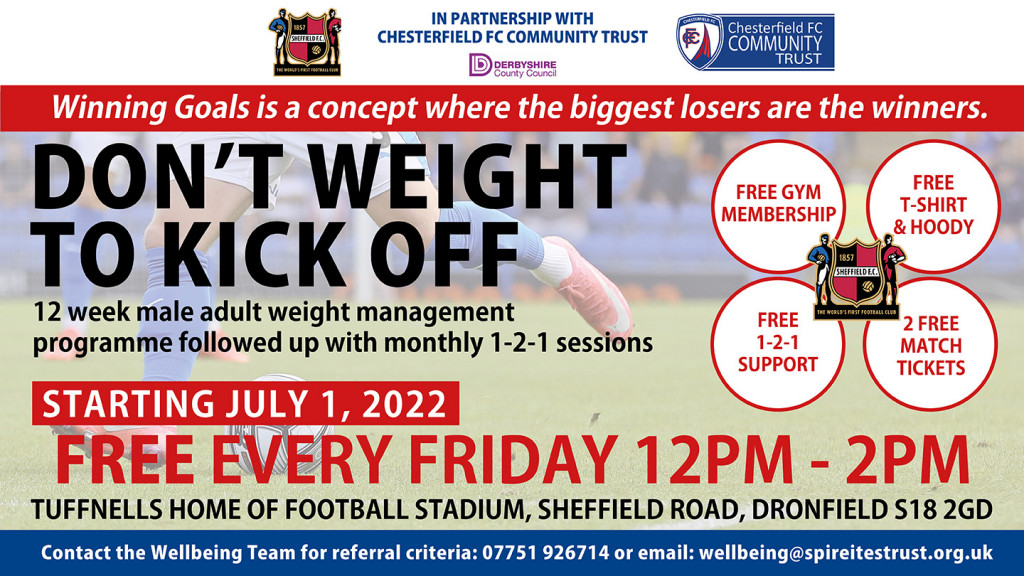 Weight Management - Sheffield FC
After a successful programme comes to and end Chesterfield FC Community Trust and Sheffield Football Club are teaming up once again to deliver a male specific adult weight management programme.
Staff from Chesterfield Community Trust will be delivering the programme, using facilities at The Tuffnells Home of Football Stadium in Dronfield.
Richard Sheldon, Sheffield FC's general manager, said: "It's a pleasure to partner with Chesterfield FC Community Trust and Derbyshire County Council once again to deliver this incredible programme. The programme has already benefited those who participated on the initial one ran.
"There is no cost to sign up to the programme and there are some fantastic benefits, such as free gym membership and free match tickets to watch The World's First Football Club."
Andrea Parkinson, the Community Trust's wellbeing manager, is delighted to be working in partnership with Sheffield Football Club again to deliver the programme.
She said: "Working within Dronfield will allow us to support more participants across Derbyshire. I would like to thank Sheffield FC for being so accommodating for the previous programme and we look forward to supporting the area further.
Delivered over a 12-week period, the programme will feature sessions each Friday, commencing on July 1st, from 12pm to 2pm.
For more information and details regarding the referral criteria, please email wellbeing@spireitestrust.org.uk or phone Chesterfield FC Community Trust's Wellbeing team on 07751 926714.