CAPELLI SPORT BECOME OUR LONG-TERM KIT PARTNER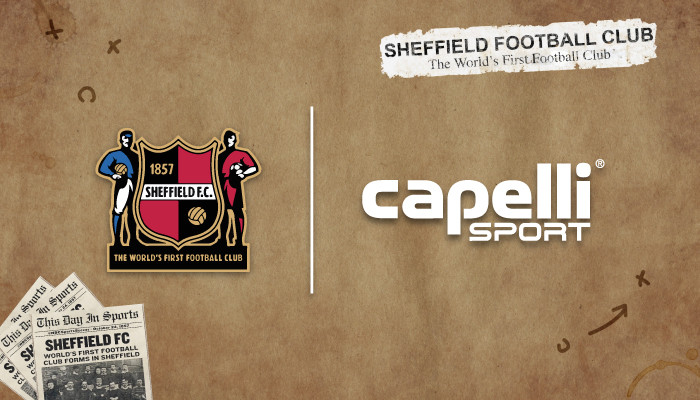 U.S. company, Capelli Sport, become our long-term kit partner
Sheffield FC is excited to announce a new long-term partnership with Capelli Sport.
Beginning in the 2023 season, this deal will see Capelli Sport provide home, away and third kits, as well as training kits.
Founded in 2011, Capelli Sport is an American sportswear and footwear company based in New York, United States. We join Capelli Sport's ever-growing portfolio of sporting partners including London City Lionesses, Coventry United Women, Barnsley Women FC, HB Køge and MSV Duisburg.
Sheffield FC Chairman, Richard Tims said:
"The World's First Football Club – Sheffield FC are delighted to be partnering with Capelli Sport as our technical kit supplier. We feel the quality and range of product Capelli Sport produce mixed with our heritage will really complement each other. Ironically our 1904 Captain Fred Milne led the first overseas team to play in the US, and with the 2026 FIFA World Cup only three years away, I think there is great opportunity for both brands."
Capelli Sport UK Sales Director, Tristan Batt said:
"We are excited to welcome the world's first football club, Sheffield FC, to the Capelli Sport family. Supplying Sheffield FC directly with a great kit offering as well as supporting the club in achieving its goals with our unique football eco-system Capelli Sport Plus+. I would like to thank Richard and his team for the trust they have put into Capelli Sport since our very first meeting, we look forwards to a positive partnership over the coming years."
President and CEO of Capelli Sport, George Altirs said:
"Capelli Sport is proud to be working with the world's first football club. Sheffield FC is an outstanding club, from its players, to its coaches, and its staff. We can't wait to see them compete in Capelli Sport uniforms this year, and hopefully, for many more seasons to come."
About Capelli Sport
Capelli Sport is a global multi-sports based in New York City, specializing in team sports. Our passion for creating products from lifestyle apparel to footwear and performance match kits enables athletes and teams to maximize their success on the field and beyond. Capelli Sport supports all athletes through a unique global sports ecosystem with a focus on service excellence. Learn more at capellisport.com and find Capelli Sport on
Instagram (@CapelliSport)
#TheWorldsFirst