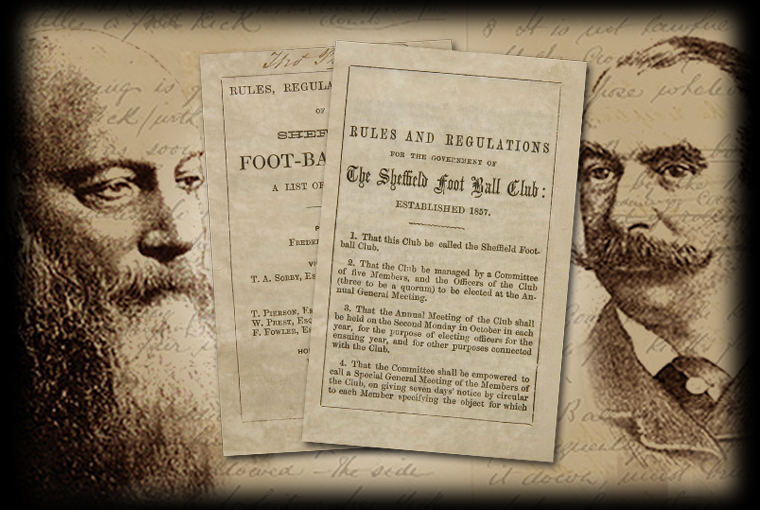 In 1855, members of a Sheffield cricket club organised informal kick-abouts without any official rules.
Subsequently, two members, Nathaniel Creswick and William Prest, formed the Sheffield Football Club.
The inaugural meeting of the club took place on 24 October 1857 at Parkfield House in the suburb of Highfield in Sheffield. The original headquarters was a greenhouse on East Bank Road lent to them by Thomas Asline Ward, father of the first club president Frederick Ward, and the adjacent field was used as their first playing ground. Initially, Sheffield FC games were played among club members themselves and took the format of "Married v Singles" or "Professionals v the Rest".
Creswick and Prest were responsible for drawing up the club's rules of play, which were decided upon at the club's AGM on 21 October 1858, and published the following year. They were referred to as the Sheffield Rules, and were the first detailed set of rules of football to be published by a football club (as opposed to a school or university). At the time, before the formation of the Football Association (FA), many different kinds of football were popular in England. For example, each of the various public schools played football according to their own individual rules, and these varied widely. The Sheffield Rules were later adopted by the Sheffield Football Association when it was formed in 1867
Sheffield's near neighbour, Hallam FC was formed in 1860 and in the same year the two clubs first met each other in a Local Derby which is still contested today.
They became members of The Football Association on 30 November 1863 but continued to use their own set of rules. On 2 January 1865, the club played its first fixture outside Sheffield against Nottingham playing eighteen-a-side under Nottingham Rules.
By this time the club had decided only to play teams outside Sheffield in order to seek a bigger challenge. On 31 March 1866, Sheffield played a 'London' team under FA Rules at Battersea Park. The game, played as an eleven aside, was won by London by 2 goals and four touches down to nil. However, the matter of Rules being disputed around the country was solved by the adaptation by Sheffield FC of the FA rules in 1878.